Format: 12" Vinyl Lp
Artist: Georgina Peach & The Savoys
Title: I'm On My way
Style: Rhythm & Blues, Soul.
Available
Cheri "Georgina Peach" Addo was discovered when she sang working as a waitress ... The band immediately fell in love with her voice and incorporated her immediately. The rest of the band consists of Jerome van Gasteren (guitar), Roy Raaijmakers (piano, organ), Evert Hoedt (saxophone), Mikkel van der Meulen (saxophone), Martin Ubaghs (bass) and the also known Dry Riverbed Trio. Darryl Ciggaar
Their first album is a great Rhythm & Blues party, judge for yourself !! A smooth mix of Rhythm & Blues and Soul replete with wind instruments and an extremely moving singer.
SIDE A
Palm Of Your Hand
Early Times
I'm On My Way
Perfidia
I'd Rather Go Blind
Walking The Dog
SIDE B
If You Don't Think
I Can't Help Myself
I Know (You Don't Love Me No More)
Honey Hush
God Trying To Get Your Attention
Money (That's What I Want)
This product is compatible with:
---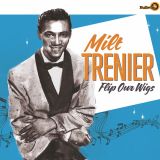 Customers who bought this product also bought the following products:
---