Format: 45 rpm 7" vinyl EP
Artist: Curtis Gordon
Title: Draggin'
Style: Rockabilly
Available


Side 1
1 Draggin'
2 Mobile, Alabama

Side 2
1 Sittin' On Top
2 Rock, Roll, Jump and Jive (Un. Mercury)

"Mr Personality" from Moultrie, Georgia, Curtis Gordon spent two years at the RCA label before moving on to Mercury Records in 1954 where his curent band is cutting discs in the new rockabilly style.
Although staunch country fans, Curtis and his boys are making astoundingly original hillbilly rock waxings, with the unusual lead picking of steel-guitarist Al Murray and Slick Gillespie on slappin' bass fiddle.

Recommended products:
---
This product is compatible with:
---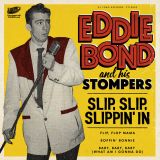 Customers who bought this product also bought the following products:
---