Format: 7" vinyl EP
Artist: The Roomates
Title: Church Bells Ringing Everywhere
Style: Doo Wop
Available
Side A
1. Church Bells Ringing Everywhere
2. Falling Rain
Side B
1. Found A Girl
2. A Thousand Miles From Nowhere
The Roomates are, whithout any doubt, the number one doo wop group in the world recreating the white group sounds of the late 50's and early 60's. For a lot of years they have been showing it, getting to the point of even sharing the stage with their number one idol Dion.
Their new EP for El Toro Records, it's once again prove of what they do best. Everything done with great love for the music, putting a lot of effort in achieving the classic sound.
A must for every doo wop fan everywhere, or simply to any 50's music lover!
Recommended products:
---
This product is compatible with:
---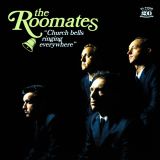 Customers who bought this product also bought the following products:
---