Format: CD
Artist: Smokin A
Title: Smokin
Style: Rhythm & Blues
Available

Dirty
Tell Me
Wishmaster
Work Of Art
Smokin
Normal
More Money
Down
Let It Inside
Take It Easy


While most bands are looking for "their own" and "original" style and sound, doing their recordings at the same vintage studios other "unique-sounding" bands were doing recordings before. Alex has never tried to be a unique and special artist. All he wanted was to play his music that was inspired by the musicians and artists from different styles and eras. On top of that he never tried to create an non-existent name of a genre for better promotion, because this young man truly believes that artist has to work on music, not on commercials or sales...
However, for 16 years Alex has been involved in the rock-n-roll scene with such bands as Ruki'v Bryuki, The WiseGuyz, The Real Gone Tones, and way more. He's learned how to perform and how to compose in different styles from roots blues and country to shout blues, rockabilly and soul. Smokin' A tries to avoid any worn out clichés, and conventional subjects in his all-original repertoire, while at the same time the music of the band is still based on classics of the past. The reason for that is not because he is a "vintage lover", but because he is "a fan of a good stuff", so he considers his songs to be modern music.
Some call it punk, somebody call it soul, Alex himself calls it R&B, but in fact it is a mix of deep and sometimes melancholic, yet sharp and up-to-date lyrics with groovy beat and inescapable turnovers and melodies. His debut recording took place in an analogue studio right in Alex's living room on the 6th floor of a panel house in a residential area of Kiev.
The musicians tried to create a big sound in a small place while at the same time holding onto the feelings, environment and the atmosphere of the recording process to get you through each and every song and feel the same feeling of the songwriter. If you can just hold on for a minute and listen, you will definitely find something interesting for you. If good song writing is your bag you'll have plenty of food for thought. If you want to dance, just dance to this brand new record, called "Smokin"!!! Enjoy the new artist from El Toro Records - Smokin A.
Recommended products:
---
This product is compatible with:
---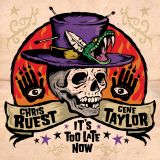 Customers who bought this product also bought the following products:
---