Format: Compatc Disc
Artist: The Don Diego Trio
Title: Greetings From Austin
Style: Honky Tonk, Rockabilly, Ameripolitan
Available

Track listing:
Intro
Rolling Wheel
Loves The Rain
I Didn't Walk The Line
My Window Faces The South – Kristin Harris (Lead Vocals) - Chris Casello (Lap Steel Guitar)
Suspicious
Waitin' For A Beer
Truck Drivin' Daddy
Monday – Mike Maddux (Lead Vocals)
Austin – Teri Joyce (Lead Vocals)
Daddy's On A Freight Train
Django With Twango
There's A Bit Of Everything In texas



Febrero de 2017. Por segunda vez consecutiva, The Don Diego Trio fue nominado para la categoría de "Rockabilly Band" en los Premios Ameripolitan en Austin, TX. Una gran ocasión para tocar algunos bolos en el área de Austin, viaje cultural y una sesión de grabación y, ya que, durante esa semana, un montón de buenos artistas y amigos de todo Estados Unidos estaban en la ciudad, ¿por qué no invitarlos a unirse a la banda en un estudio?
También te recomendamos los siguientes productos:
---
Este producto se compró junto con :
---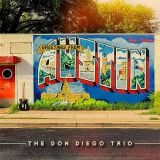 Clientes que compraron este articulo, también pidieron estos articulos:
---