Format: CD
Artist: SONNY BURGESS AND THE PACERS
Title: GIJON STOMP!!
Style: Rockabilly
Available

Sonny Burgess and the Pacers...and they said Elvis sounded like a black man. You could say when you're a few years over retirement age you'd wanna be like Sonny Burgess and The Pacers. You'd wish you had the energy, the enthusiasum, the style, the charm, the sense of fun. You probably should be saying that now, even if you're like 25, because clearly, most of us don't. I knew they were coming to Spain to play the Crossroad 2007 Festival. I was excited about them playing in my new neighborhood, Asturias. With all the members averaging over 70 years old, I wondered if they still "had it." I'd always loved the soound of their records, always tougher, grittier and bluesier than anyone else in the Sun Records stable. They had this intense beat, wild screaming and cornball trumpet that always made me feel like there was a party that I should have been at, a party I had missed. In September 2007 they took the flights from Little Rock, Arkansas to Atlanta, to Madrid, then up to Asturias on a Thursday. Friday they hauled their merchandise, set up a table, signed autographs, talked and posed for pictures with their Spanish fans. Saturday they stole the show at Crossroad, blasting out the most authentic Rock and Roll heard in 3 days, easily smearing groups a quarter of their age. During the set they blew out the power generator for the whole festival, then came back without missing a beat to finish off the crowd, who waited in the dark for the show to go on. Then more merch, photos, autographs, handshaking until the wee hours of Sunday morning. After a few hours of sleep they made thier way to Circo Perrotti Studios in Gijon to blast out these 9 songs. These guys got right down to work- real pros with thousands of gigs under their belts. They hauled in their own gear, got settled down in the studio and started busting each others balls like they were teenagers, as they hammered out songs they hadn´t even played live before. When it was time to break and treat them to a nice Asturian lunch, they asked me if I could set them up with some Diet Cokes and Snickers bars, because they didn´t want to stop playing! When they did stop, it was back to the hotel in Oviedo for 5 hours sleep and 4 connecting flights to Arkansas the next morning. That afternoon I heard the kind of Rock and Roll that after years of working in the studio, many attempted to duplicate. Most failed. There behind the studio glass were the people responsible for inventing it. Jorge and I furiously rolled tape trying to keep the pace with The Pacers.The sound shook the studio and immediately transported me back to the US of A. A rock solid backbeat and a Jimmy Reed shuffle that no drummer in this country could master. Roadhouse piano that was up to snuff with The Killer's wildest pounding. A Hillbilly yodel cured for years in Arkansas corn likker, drenched in tape echo. And a blues holler, well, that made Elvis sound a little more like Pat Boone and a little less than Arthur "Big Boy" Crudup. This was not the normal noise you hear on a Sunday in our barrio in Gijon. Or London, or New York or even Memphis anymore, for that matter. This was some archaic language that only the elders could speak and the youngsters could only hope to understand. Damas y Caballeros, se llama "Rock and Roll." Mike Mariconda.

Customer reviews:
Author:
Visitor
am 05/03/2010
Evaluation:

The cover shows a picture taken in the fifties but this album contains recordings made during a trip to Spain by Sonny and the Pacers in 2007.Listening to the sound, the energy, the voice you wouldn't believe it's played by men in their 70. Burgess remains the wild man he was and the band has nothing to envy him (the sound of the guitar is almost garage at times).
Burgess roars and the Pacers rock ! All of the nine songs are covers (from the catalog of Carl Perkins, Hank Williams, Jerry Reed, Roy Head) but one (the well named instrumental "Gijon Breakdown"),going from rock'n'roll to blues, with rockabilly and country here and there.
Their enthusiasm and fun is infectious and you can only admire them for staying true to their music.
Fred "Virgil" Turgis - Jumpin from 6 to 6
Recommended products:
---
This product is compatible with:
---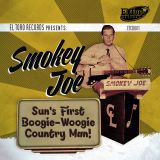 Customers who bought this product also bought the following products:
---