Format: CD
Artist: Eddie Fontaine
Title: Godness It Is…
Style: Rockabilly, Rock and Roll, Pop
Available
Eddie Fontaine es uno de esos héroes de los 50, que muy a menudo se olvida, tal vez porque era un poco demasiado adulto para llegar a ser un ídolo adolescente y su música era, quizás, un poco demasiado comedida y cortés para ser clasificada de salvaje Rockabilly o Rock And Roll, pero es buenísima música y merece ser escuchada.

Track Listing:
1 It Ain't Gonna Happen No More
2 Where Is De Woman
3 Nothin' Shakin'
4 Don't Ya Know
5 Rock Love
6 All My Love Belongs To You
7 I Miss You So
8 On Bended Knee
9 Rollin' Stone
10 Boom-De-De-Boom
11 Here 'Tis
12 Stand On That Rock
13 Baby, You Did This To Me
14 Homesick Blues
15 Into Each Life Some Rain Must Fall
16 Cool It Baby
17 You Can't See The Sun When You're Crying
18 The Years Before
19 East Of The Mississippi
20 I'll Be There
21 Run, Elmer, Run
22 Fun Lovin'
23 One And Only
24 Honky Tonk Man
25 Hey Marie, Rock With Me
26 Who Is Eddie?
27 Just Tryin' (To Win Your Heart)
28 Goodness, It's Gladys!
29 Middle Of The Road
30 Nothin' Shakin' (But The Leaves On The Trees)
31 I'm Ready As I'll Ever Be - Duet with Gerry Granahan
32 Nobody Else Can Handle This Job But Me - Duet with Gerry Granahan
33 Love Eyes
34 Tryin' To Get To You
También te recomendamos los siguientes productos:
---
Este producto se compró junto con :
---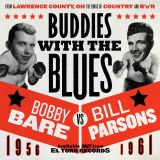 Clientes que compraron este articulo, también pidieron estos articulos:
---