Format: CD
Artist: Eddie Fontaine
Title: Godness It Is…
Style: Rockabilly, Rock and Roll, Pop
Available
"I was speeding one night in Long Island and the police stopped me; back then, in New York City, they took you down to the court house. They put me in this holding tank with a bunch of drunks, and I went up to a black guy there and said, "Hey man, what's happening?" and he said "There's nothin' shakin' but the leaves on the trees, and they wouldn't be shakin' if it wasn't for the breeze."… I wrote that song on a Sunday morning in about fifteen minutes..."
Eddie Fontaine is one of those 1950s heroes who sometimes gets forgotten because he was maybe a little too old to have been a teenage idol, and his music was perhaps a little too measured and urbane to be classed as manic rockabilly or wild rock 'n' roll, but it is great music and deserves to be heard
Track Listing:
1 It Ain't Gonna Happen No More
2 Where Is De Woman
3 Nothin' Shakin'
4 Don't Ya Know
5 Rock Love
6 All My Love Belongs To You
7 I Miss You So
8 On Bended Knee
9 Rollin' Stone
10 Boom-De-De-Boom
11 Here 'Tis
12 Stand On That Rock
13 Baby, You Did This To Me
14 Homesick Blues
15 Into Each Life Some Rain Must Fall
16 Cool It Baby
17 You Can't See The Sun When You're Crying
18 The Years Before
19 East Of The Mississippi
20 I'll Be There
21 Run, Elmer, Run
22 Fun Lovin'
23 One And Only
24 Honky Tonk Man
25 Hey Marie, Rock With Me
26 Who Is Eddie?
27 Just Tryin' (To Win Your Heart)
28 Goodness, It's Gladys!
29 Middle Of The Road
30 Nothin' Shakin' (But The Leaves On The Trees)
31 I'm Ready As I'll Ever Be - Duet with Gerry Granahan
32 Nobody Else Can Handle This Job But Me - Duet with Gerry Granahan
33 Love Eyes
34 Tryin' To Get To You
Recommended products:
---
This product is compatible with:
---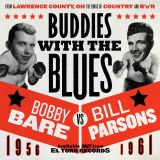 Customers who bought this product also bought the following products:
---