El Rock And Roll Británico Para Los Fans Españoles. Vol. 1
Autor: Rubén Olivares Rosell.
170 x 240 mm. 352 páginas a color.

Este libro que tienes en tus manos es mi más sincero reconocimiento y admiración al rock and roll que surgió en las Islas Británicas durante el período 1956-1964. Es el primero de tres volúmenes que pretende llenar el hueco que, a nivel bibliográfico, tenemos en nuestro país.
El rock and roll británico ha sido siempre denostado, arrinconado y resumido a unas pocas lineas en los libros sobre el género. Es el momento que salga de ese ostracismo injusto. Gracias al autor y al mecenazgo de El Toro Records, que se estrena con esta obra en el campo de la distribución literaria, se quiere romper este silencio. Un libro de investigación sobre el rock inglés, el primero en su género en nuestro país. Para disfrute de fans y aficionados.
This product is compatible with:
---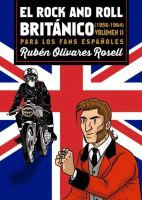 Customers who bought this product also bought the following products:
---